CSBA has provided quality English language and sports business study programs in Whistler, Canada since 1996. CSBA prides itself in delivering the highest quality educational experience to students.
CSBA is accredited by organizations responsible for overseeing the private education industry in Canada; this accreditation helps us protect students rights' and ensure that our programs exceed industry standards.
The Province of British Columbia: Education Quality Assurance (EQA)
The EQA designation is available to educational institutions in B.C. that meet or exceed quality assurance standards set by the province of B.C. The EQA protects student rights and promotes post-secondary education in B.C. and is recognized locally and internationally as a sign of quality education.

B.C. Private Training Institutions Branch (PTIB) / Institution ID : 1524 (Designated)
PTIB is the government agency which oversees and certifies private training institutions in British Columbia; all institutions which provide, or offer to provide, a career-related program with 40 hours or more of instructional time and tuition of at least $4000 require certification. PTIB ensures quality standards are met at institutions around the province and that student rights are protected. Certified institutions pay into the Student Tuition Protection Fund; if an institution closes before students can complete their programs, or misleads them about a significant aspect of an approved program, students may make a claim against the fund for all or part of their tuition.

Advantages of CSBA
Enrolment that will not only leave you with a hunger for sport, but a diploma too!
Canadian Sports Business Academy is a sports vocational school that is registered as a private training institution with the Government of British Columbia. We have set up a safe and comfortable environment for students to learn and access certified post-secondary education.
*Note: Diploma programs have a minimum commitment to hours and course completion. For details see the sports program outline*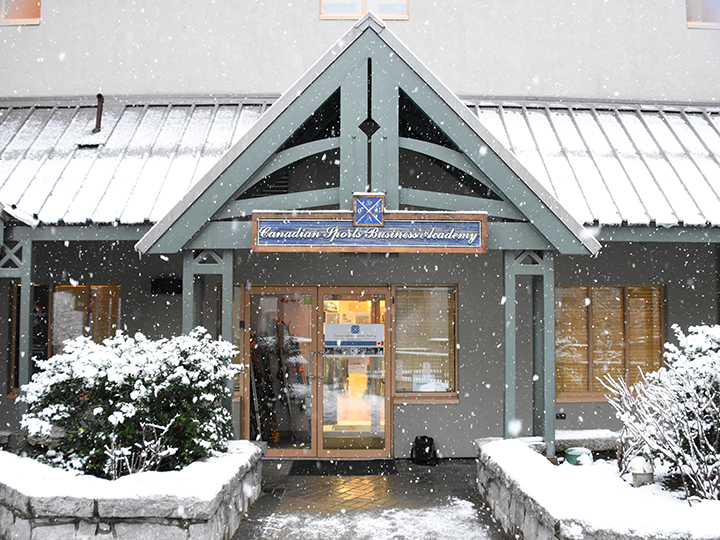 We love Whistler's learning environment
Whistler is a world stage for the best sporting events. From the 2010 Olympics to the IRONMAN, Whistler attracts professionals from all around the world. Many of these athletes contribute to the health of the community, by running clinics, attending conferences and being great ambassadors for sport. Students of CSBA will enjoy many opportunities to meet athletes and professionals throughout the school year.
It's a community full of diversity
Multi-culturalism and social diversity is one of the advantages of living in Canada. Students at CSBA are encouraged to participate in cultural activities that showcase diversity – using English as the common ground. And, we try to be active leaders in encouraging diversity within our sport communities.
Amazing practical experiences come from the community bonds we share with our students
Whistler is unique. Its full-time resident population is small at 11, 854. But, its overnight resort population can grow to around 50, 000 in just a weekend. This means students have the chance to develop small town relationships, but still have access to big city amenities. Many businesses are locally operated and provide service in the adventure tourism industry, so we've established deep bonds that help us find the best home-stay accommodation and work placements.
Guiding is our speciality
We have a strong belief that if we develop our theoretical and practical knowledge, we will achieve success. Because of that belief, we do our best to guide students in many aspects of career development. We take a holistic and practical approach to learning and focus importance on communication skills, as well as, mind and body strength. Over the last 20 years, we have developed our programs to adapt and meet the needs of the sporting environment – and part of that leadership initiative is to offer a strong government registered curriculum and a community to guide you through it.
Variety is the spice of life – and education
At CSBA, we have seen many students grow as people while building skills. By adding interesting activity-based learning to the indoor and outdoor classroom, we can provide amazing variety. Most topics start with a lecture and finish with hands-on experience. We also add courses from organizations that provide national certifications, like first-aid and avalanche awareness. This way students can see how different organizations operate within the recreation and tourism industry.
Individual support for everyone
We recognize that everyone is different. While our director sets the tone and direction of the student body, our staff and students are shown the best way to progress as an individual within a team atmosphere. We offer counselling on a one on one basis to help with the transitions between Canada and your home country. And, we ensure that English helps you secure more opportunities within sport, recreation and tourism.
Support systems are everywhere
Cooperation is important. That's why CSBA has built support systems within our staff, homestays, student body, and the businesses that surround us. We hold regular interviews with students to ask if the systems are working well for them. Plus, we encourage an open atmosphere where students feel comfortable talking about their challenges with living abroad.
Whistler is secure and convenient
It's a small town and it's a safe environment to live in. Plus, the village is designed with convenience in mind. Our school is within walking distance of most of your daily needs, like grocery, ski-lifts and parks. We are also close to police, fire and an emergency medical centre. Outside of Whistler's village stroll, there is an abundance of natural space, including lakes, hiking trails, and mountainous views.